June 26, 2020 | COVID-19 Update, Welcome to the Portal, Medical, Uniform, and Summer Reminders!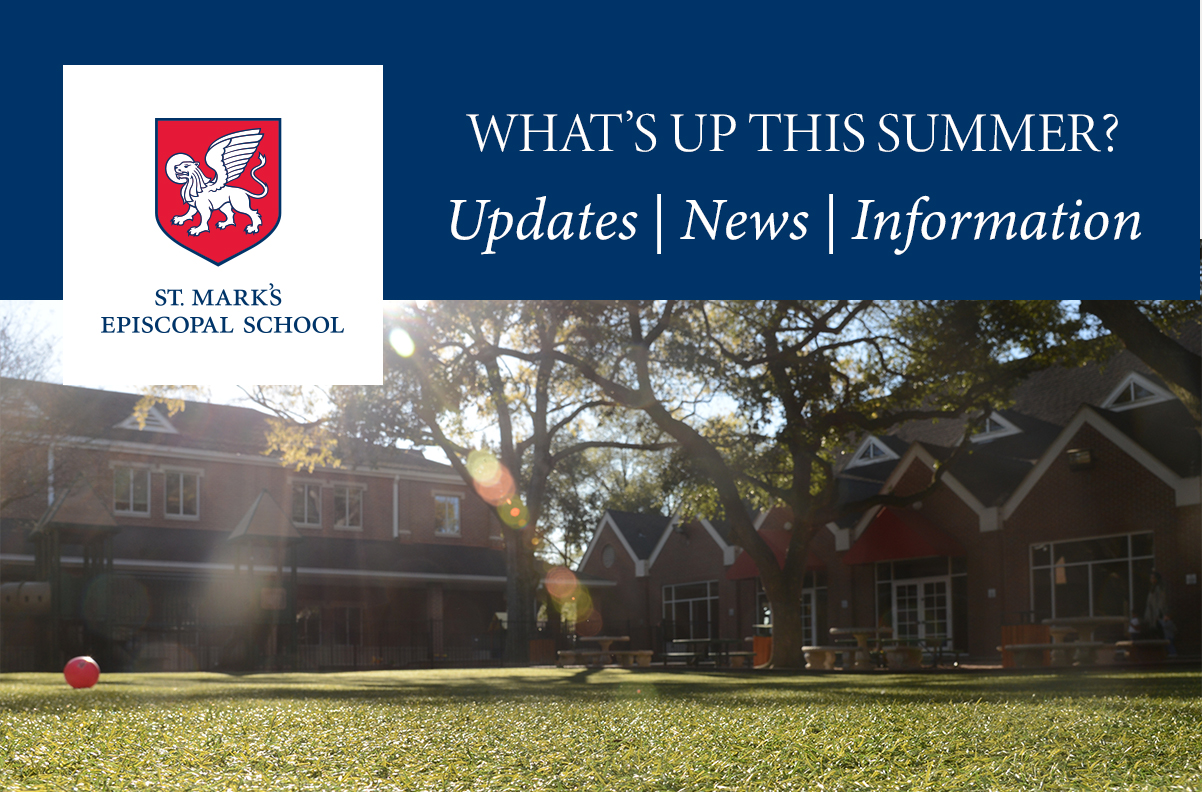 Hello St. Mark's Families,

We looked forward to updates from the Governor and TEA (Texas Education Agency) that may help us further speak to the fall. While neither are specific enough to provide upgrades to our back to school details for August, there are a couple points to note. The TEA published some guidelines on Tuesday for the fall and has since removed those resources, likely as the result of increased COVID-19 cases this week. This week, Governor Abbott reported on the surge that Texas is experiencing this week and reminded people of the importance of frequent handwashing, staying home when able, safe social distancing, and use of face coverings. Governor Abbott urged us to consider these precautions as a means to keep Texas open.

As we look to the fall, low daily case counts, positivity rates, and hospitalizations make it more likely for school to open and operate in a somewhat normal fashion, whereas increased numbers throughout the summer could potentially compromise the opening of school in August, not just for St. Mark's but for everyone. The safety of our students, faculty and staff, and families is a priority, and the COVID-19 conditions in Texas, and most specifically in Houston, will almost certainly play a direct role in how and when school starts. Just yesterday, Mayor Turner announced 924 new cases and continues to implore upon Houstonians to follow the same precautions recommended by Governor Abbott. We will continue to carefully monitor the situation and update our families as quickly as we are able. As a reminder, you can stay up to date with our latest communication surrounding the pandemic and our plans for next year through our COVID-19 page.

Stay safe,
Garhett Wagers
Headmaster

The St. Mark's Portal holds everything from contacts to classes to calendars in one place with tools that allow you to easily filter and find what is most important to you. The Portal includes announcements and assignments, messaging, athletics schedules, and School calendars. With an intuitive dashboard, customizable settings and notifications, and easy navigation, you will be a Portal pro in no time.

As of now, the roll over process has been completed, which means that your child has been placed in his or her grade for the 2019-2020 school year within our system. A note to new families: We recommend that you explore the resource boards on the Portal. They provide information across your St. Mark's experience. The Portal Help page on our website will give you helpful tips on where to get started!

All students must have a complete record in Magnus Health by August 1, 2020. All families, whether new or returning, now have access to Magnus Health through the Student Health resource board in the Portal. From the resource board, you can read more information about what is required, and you can click the Magnus Health logo to access your student's personal record. Please email Nurse Sarah Beckmann with any questions.

Smart Tuition provides a user-friendly interface for parents and is accessible through the parent portal. Our first tuition payment was due in June. As a reminder, you selected the due date for payment when signing your enrollment contract - either the 1st, 5th, or 20th of the month.

One-payment plans were due in June on the date you selected
Two-payment plans had payment #1 due in June on the date you selected
Ten-payment plans have payments due June through March on the date you selected
A late fee is assessed by Smart Tuition for any payment made later than 5 days after the due date. All unpaid balances from the 2019-2020 school year need to be paid before your child starts school in the fall. Report cards and 8th grade transcripts are held for unpaid balances throughout the year. Please pay promptly so the school can meet its financial obligations. Questions about your student account? Email Chau Vu, Student Billing, or Eve Grubb, Director of Operations.

As a reminder, all students in Preschool 3s through 8th grade wear uniforms at St. Mark's, and we have two suppliers for our school uniforms: Lands' End and Flynn O'Hara. In addition, PE Uniforms can be purchased from Lands' End, Flynn O'Hara, or BSN. The uniform page of our website details what items are required and where they can be found.

Lands' End is a national organization for uniform purchase with easy online shopping. To get started, visit the Lands' End website and enter the St. Mark's School Number: 900181900. Create a profile for each of your students and enter their grade for the next school year to see options offered through Lands' End. Lands' End is running a 30% off promotion now through July 3, 2020. You can learn more about sizing here.

Flynn O'Hara offers a local, retail option for uniform purchase, along with online or phone shopping. To get started, visit the Flynn O'Hara website and locate St. Mark's in the school drop down menu on the right side of the home page. Flynn O'Hara has provided St. Mark's with a detailed response to the COVID-19 pandemic, along with a quick guide on how to get started. To stay up-to-date with promotions and sales, opt into Flynn O'Hara's emails; learn more here.

BSN provides PE Uniforms (for 5th through 8th grade students) and athletic options several times throughout the year. At this point, our shop through BSN is open and will remain open through July 11, 2020. BSN is offering an Under Armour shirt, for those who are interested. Click here to browse the store and place your PE Uniform order!

Camp is only one week away, and we are so excited to have many of our St. Mark's friends joining us. There are still a few spots left; you can register here. We've been working hard to prepare the campus and our staff for a fun, safe camp experience. Check out our Summer at St. Mark's 2020 Guide for all your camp questions. Flik Dining will also be testing out a free summer lunch program for families who choose to participate and parents can learn more and fill out their lunch order here. For any camp related questions, please contact Juli Rush, Director of Extended Programs.

Note: We are planning to offer our usual athletics offerings for both Middle School and Lower School students for the 2020-2021 school year. However, we are continuing to monitor the COVID-19 situation and impact and will make final decisions based on available information and health guidelines.

In the fall, we offer soccer, cross country, and volleyball to our 5th through 8th grade lions. Lower School students also have athletics opportunities! In the fall, 3rd and 4th graders can choose to run cross country, and UCAL soccer is offered for 1st through 4th grade students.

To register for lower school or middle school athletics, log into the Portal (view Portal Help), click on the yellow banner indicating that you have forms to review. If you have cleared this banner, you can click on your name in the top right corner. From there, select Files & Forms. Athletic registration is on the Files & Forms page; look for the forms titled "2020-2021 Lower School Athletics Registration Form" or "2020-2021 Athletics Registration Form" for our Middle School students.

Rising 1st through 4th grade students have summer reading assignments. Click here to find your student's assignments. Looking to shop local while buying your books for summer assignments? We encourage all families to buy from Brazos Bookstore. You can shop online through the website they developed just for St. Mark's.
© St. Mark's Episcopal School
3816 Bellaire Boulevard | Houston, TX 77025
T: 713.667.7030