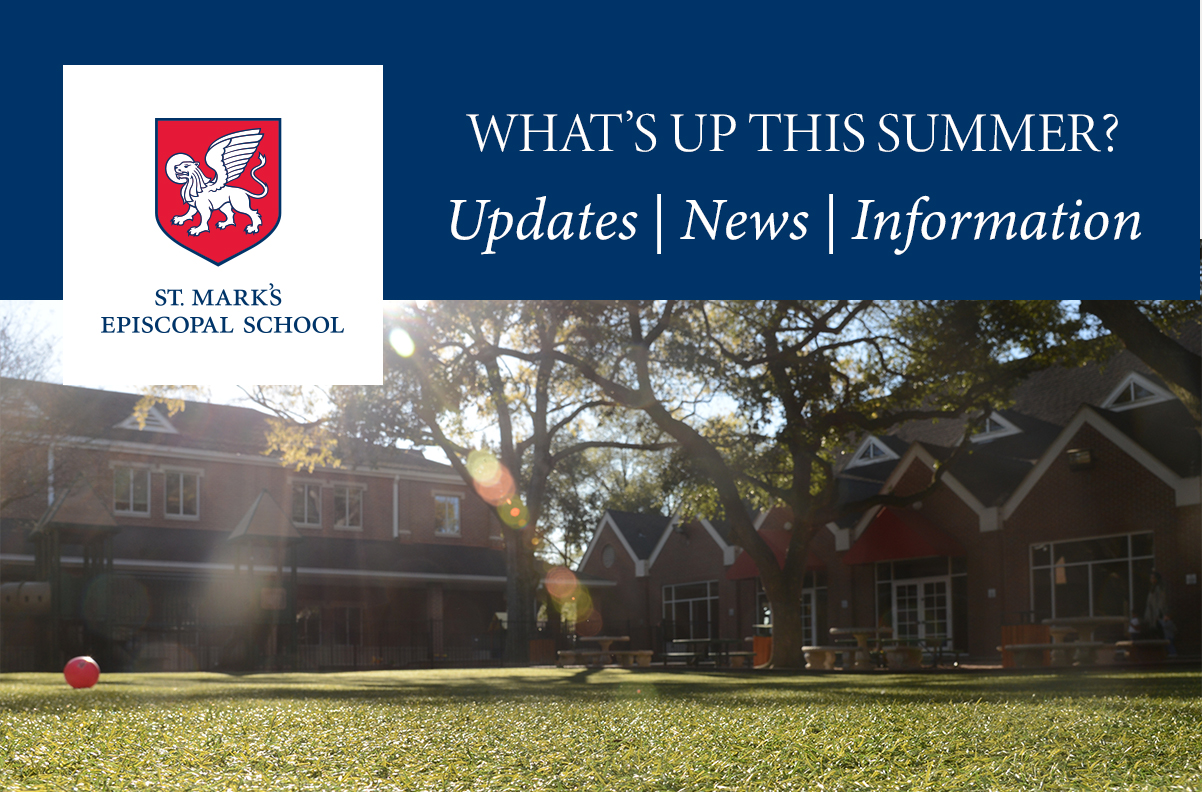 Hello St. Mark's Families,

On Wednesday, HISD announced a delayed start of school to Tuesday, September 8. Additionally, they plan to open the school year with six weeks of distance learning. This decision was noted by our team at St. Mark's, along with all independent schools in our area. We realize that there are St. Mark's families, faculty, and staff members with children in HISD. We are currently evaluating the impact of this news and will communicate any changes to the start of our school year as soon as possible.

St. Mark's is part of an association of independent schools, both locally and regionally. Each school in this association realizes that decisions made by HISD are impactful, and that each of our schools have different environments and circumstances than this district-wide entity. As such, we work together to assess the impact of HISD's plan as well as the overall impact of COVID-19 in our area while making planning decisions.

I want to recognize our medical consultants. Special thanks to Nurse Sarah Beckmann for leading and meeting with a team of five physicians within the St. Mark's community to help guide our developing plan and policies for promoting safety on campus. It is very valuable to hear from these experts, with specialties in pediatrics, pulmonology, gastroenterology, and infectious disease who have children at St. Mark's and understand this community so well.

Here are a few areas where I can share updated information.

On-campus vs. distance learning: It remains our goal to open school on campus for all our students.
Clearly the status of case counts, positivity rates, and the strain on our health care system makes this a challenge. We are hopeful that with time, better hand washing, social distancing, and masking, Houston's current status will improve and this goal can be realized. Meanwhile, we continue to build out both our hybrid and distance learning programs should circumstances require us to move in that direction.

With conditions changing quickly in the COVID environment, a month is a long time, and we remain prayerful everyone in our community will help contribute through your own family choices.
Masks: We will have a mask policy on our campus.
Who will wear masks, and when?

Faculty and staff will wear masks throughout the day.

At this time we are certain that all students will wear masks for at least part of the school day, and that students in Kindergarten - 8th grade will wear masks most of the day while indoors. We continue to assess the full implementation of masks with our youngest lions while working with pediatricians and other health experts to identify the best approach.

Anyone over the age of 2 years in the carpool lane, including those remaining in the vehicle, will be expected to wear a mask.

We are continuing to assess points in the day where it is safe and acceptable to remove masks, both for children and adults, as we know the situations vary based on age and space.

How can we help our kids get used to wearing masks?

Since we are currently under an executive order by Governor Abbott to wear masks, I imagine your children are learning this practice. If that is not the case, I recommend that each family begin practicing so that our students will understand how to take them on and off safely, and how to wear them throughout the day in a way that will contribute to the safety of our community.

What type of mask will be required?

We recommend cotton face coverings for all students. Disposable masks will also be acceptable. Masks should not have an exhalation valve.

We would like our students to be able to put on and take off their own masks without help. If earloop style masks are uncomfortable to use for long periods of time, consider a tie-back style with a cord-stop to avoid having to tie independently.

Nurse Sarah Beckmann is working on a more comprehensive FAQ regarding masks that will be available next week.
I realize the fast-moving news cycle we are living in creates angst in many of us, and that with each new piece of information it is your hope and expectation that our school is both aware and prepared to make and communicate decisions. I'm grateful for your vigilance and want to reassure you that we are watching and listening. I look forward to providing more information next week, and wish you all a great weekend.
Headmaster

All students must have a complete record in Magnus Health by August 1, 2020. All families, whether new or returning, now have access to Magnus Health through the Student Health resource board in the Portal. From the resource board, you can read more information about what is required, and you can click the Magnus Health logo to access your student's personal record. Please email Nurse Sarah Beckmann with any questions.

The St. Mark's Portal holds everything from contacts to classes to calendars in one place with tolls that allow you to easily filter and find what is most important to you. The Portal includes announcements and assignments, messaging, athletics schedules, and School calendars. With an intuitive dashboard, customizable settings and notifications, and easy navigation, you will be a Portal pro in not time.
As of now, the roll over process has been completed, which means that your child has been placed in his or her grade for the 2020-2021 school year without our system. A note to new families: We recommend that you explore the resource boards on the Portal. They provide information across your St. Mark's experience. The Portal Help page on our website will give you helpful tips on where to get started!

Smart Tuition provides a user-friendly interface for parents and is accessible through the parent portal. Our first tuition payment was due in June. As a reminder, you selected the due date for payment when signing your enrollment contract - either the 1st, 5th, or 20th of the month.

A late fee is assessed by Smart Tuition for any payment made later than 5 days after the due date. All unpaid balances from the 2019-2020 school year need to be paid before your child starts school in the fall. Report cards and 8th grade transcripts are held for unpaid balances throughout the year. Please pay promptly so the school can meet its financial obligations. Questions about your student account? Email Chau Vu, Student Billing or Eve Grubb, Director of Operations.

Rising 1st through 8th grade students have summer reading assignments. Click here to find your student's assignments. Looking to shop local while buying your books for summer assignments? We encourage all families to buy from Brazos Bookstore. You can shop online through the website they developed just for St. Mark's.

In Primary School and Lower School, we provide all supplies for students. In Middle School, as our students transition to attending individual classes, there is a need for different supplies for the various classes. Through middle school, we are helping our students discover tools and preferences that empower them to stay organized as they prepare for high school. It may be helpful for students to be involved in purchasing their supplies for the school year. The middle school supply list is now available online.

Have you ordered your uniforms yet? The uniform page of our website details what items are required and where they can be found.

Middle School PE Uniforms:
All 5th through 8th grade students wear PE Uniforms. Because we will not be utilizing lockers this year, students will need to wash their PE Uniforms daily. This is your friendly reminder to order your PE Uniforms soon from our suppliers: Lands' End, Flynn O'Hara, or BSN. The shop at BSN will only be open until July 22; read below for more details!

Tips for Ordering:
Lands' End is a national organization for uniform purchase with easy online shopping. To get started, visit the Lands' End website and enter the St. Mark's School Number: 900181900. Create a profile for each of your students and enter their grade for the next school year to see options offered through Lands' End. You can learn more about sizing here.
Flynn O'Hara offers a local, retail option for uniform purchase, along with online or phone shopping. To get started, visit the Flynn O'Hara website and locate St. Mark's in the school drop down menu on the right side of the home page. Flynn O'Hara has provided St. Mark's with a detailed response to the COVID-19 pandemic, along with a quick guide on how to get started. To stay up-to-date with promotions and sales, opt into Flynn O'Hara's emails; learn more here.
BSN provides PE Uniforms (for 5th through 8th grade students) and athletic options several times throughout the year. We have extended our shop through BSN to remain open through July 22, 2020. BSN is offering an Under Armour shirt, for those who are interested. Click here to browse the store and place your PE Uniform order!
© St. Mark's Episcopal School
3816 Bellaire Boulevard | Houston, TX 77025
T: 713.667.7030